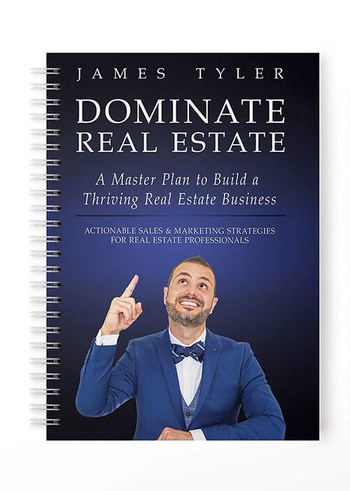 Dominate Real Estate Workbook
To have a chance at success in any business, including your real estate career, you must master three critical departments: business development, marketing, and sales. Further, agents must take control and run their real estate business like an enterprise. You are not just a real estate salesperson or a broker; you are the CEO, CFO, COO, CMO, CTO, CIO, and the Chief Everything Officer. This workbook will position you to be the hustler entrepreneur and the closer of every opportunity.
There are over 80 documents, spreadsheets, and scripts to streamline your real estate business. Everything you need from management to business development, marketing, and real estate sales is available in the digital workbook.
Here's a complete list of what is included in the Dominate Real Estate Workbook:
The Digital Workbook Table of Contents
#
Title
Type
Purpose
1
Dominate Real Estate Tactics (Workbook)
Document
PDF Link: All Tactics combined to form the digital workbook. Follow along each chapter and execute all tactics to
2
Dominate Real Estate Illustrations (Book)
Document
All book illustrations by chapter. Created to simplify the DRE methods outline in the book
3
Dominate Real Estate Methods (Book)
Document
All Methods combined. Quick reference to the DRE Methods without having to flip through the book or listen to the audiobook
4
Dominate Real Estate Ultimate Checklist (Book)
Document
The Dominate Real Estate master checklist. Hold yourself accountable and keep track of your execution plan
5
Top Real Estate blogs by Blog Rank
Spreadsheet
Top real estate blogs rated by BlogRank
6
Goal Setting Strategy
Spreadsheet
Strategy: How to set your goals worksheet
7
High vs. Low Leverage Activities
Spreadsheet
Productivity
8
Execution Plan
Spreadsheet
Management: Manage all of your projects & tasks
9
Persona Worksheet
Spreadsheet
Personalize avatars of your ideal clients
10
Communication Guarantee
Document
Listing Presentation
12
Marketing Guarantee Program
Document
Listing Presentation
13
Certified Pre-Owned Home Program (CPOH)
Document
Listing Presentation
14
Unique Value Proposition Worksheet
Spreadsheet
Worksheet: Identify and craft your brand values
15
Content Strategy Worksheet
Spreadsheet
Strategy: Create content that will generate clients
16
Miscellaneous Email Templates
Document
Nurturing Leads
17
Email Templates Worksheet
Spreadsheet
Over 20 email templates that can be used by Realtors
18
Canned Email Responses
Document
Canned email templates to convert leads to clients
19
Real Estate Sales Scripts
Spreadsheet
Scripts: Buyer, seller, FSBO, and Expired scripts
20
Top Of Mind Strategy
Document
Strategy: Nurturing your database to stay top of mind
21
Video Production Worksheet
Spreadsheet
Worksheet: Strategize your video production
22
Brand Assets Worksheet
Spreadsheet
Craft your marketing and sales brand messages
23
Facebook Custom Audience Template
Spreadsheet
Template: Facebook custom audience database template
24
Content Calendar Worksheet
Spreadsheet
Worksheet: Schedule your content to share on social media
25
Customer Relationship Management CRM
Spreadsheet
Contact relationship management worksheet
26
Technology Login Sheet
Spreadsheet
Reference: Login templates to all technologies & platforms
27
Contacts Profiling Strategy
Document
Strategy: Segmenting contacts for database
28
In-Network Momentum
Spreadsheet
Database of family, friends, and SOI
29
Neighborhood Turnover Rate Worksheet
Spreadsheet
Worksheet: Farm a profitable real estate territory
30
Out-Of-Network Momentum
Spreadsheet
Database of strangers need to convert into clients
31
Momentum Report Worksheet
Spreadsheet
Accumulate the 6000 contacts one thousand at a time and see the overall process through the conversion funnel
32
Email to MMS Reference Sheet
Spreadsheet
Send SMS/MMS from your email inbox
33
Business Directory and Category
Spreadsheet
Thousands of potential business categories to partner with
34
EDDM Templates
Spreadsheet
Templates to design Every Door Direct Mail Flyers
35
EDDM Checklist
Document
Checklist to ensure your EDDM Campaign is complete
36
Publicity Strategy
Document
Strategy: Get featured in the press
37
Press Release Templates
Document
Press Release templates to use with media kit in pitching to press
38
Press Release Activity Tracker
Spreadsheet
Track the process of pitching your PR efforts
39
Real Estate News and Blog Sites
Spreadsheet
List of top real estate media outlets, news and blog websites
40
Media Outlet Contacts
Spreadsheet
Media contacts at top-tier publications such as WSJ, LAT, NYT...
41
Facebook Groups Prospecting & Follow-Up
Spreadsheet
Template: Prospecting using Facebook groups template
42
Paid Ads Powerhouses
Spreadsheet
List of all Paid Ad Networks
43
Lead Generation to Nurturing and Automation Strategy
Document
Strategy: Lead Generation to Nurturing and Automation Strategy
44
Email Planning Template
Spreadsheet
Plan your monthly email sends and automation
45
Prospecting Worksheet
Spreadsheet
Worksheet: Track your weekly cold calls and prospecting efforts.
46
Multi-Offer Sellers Net Sheet
Spreadsheet
Listing Presentation
47
Lead Qualification Worksheet
Spreadsheet
Lead Qualification
48
Lead Follow-Up Worksheet
Spreadsheet
Management: Never miss a lead follow up again
49
Sample Follow-Up Plan For New Leads
Document
Strategy: Create a follow up plan within your CRM to maximize your prospecting and conversion efforts
50
Sellers Checklist
Spreadsheet
All sellers transaction checklists including questions to ask sellers at the listing appointment
51
10-Step Listing Marketing Strategy
Document
10-Step to Prepare for Your Next Listing Appointment
52
Free Staging Consultation
Document
Listing Presentation
53
Buyers Questionnaire Form
Spreadsheet
Listing agents have selling agents pre-qualify their buyers before making an offer.
54
Homebuyers Guide
Spreadsheet
Listing Presentation and Lead Nurturing
55
2018 Top 250 Individual Real Estate Professionals
Spreadsheet
Domination
56
To-Do List
Spreadsheet
Organize your To-Do tasks into one list
57
YAMM Mail Merge
Spreadsheet
Database: Send emails using YAMM with Gmail mail merge
58
Paid Ads Strategy
Spreadsheet
Create and run successful paid advertising strategies for web, social, and mobile
59
Addressing Your Real Estate Challenges
Spreadsheet
Understand challenges before addressing them including quick tips and more
60
Real Estate Responsibilities Checklist
Spreadsheet
Brainstorm to-do tasks that you can delegate to a VA or an ISA
61
New Seller Lead Intake Form
Document
Short and quick seller lead intake form
62
Brand Storytelling Worksheet
Spreadsheet
Worksheet: Write an effective storyline
63
SPAM Words
Spreadsheet
Avoid using these words in the body of your emails and subject lines!
64
GCI Calculator
Spreadsheet
Calculate your Gross Commission Income (GCI)
65
Content Editorial Calendar
Document
10 Steps to Setting Up Your First Editorial Calendar
66
Marketing Guarantee
Document
Pre-Listing Presentation
67
The Extensive 75-Point Marketing Plan
Document
Pre-Listing Presentation
68
Home Listing and Sale Strategy